It's time for another Mission Possible Challenge and a $100 Lowe's Gift Card Giveaway.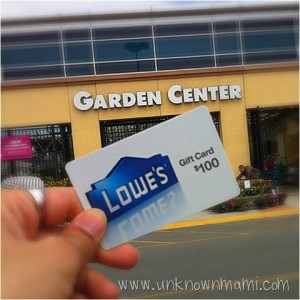 As many of you know, I am a Lowe's Creators and Influencers Network Member. What that basically means is that Lowe's presents me with a challenge, or Mission Possible as I like to call it, and provides me with a gift card to help me accomplish my mission. They also provide me with a $100 Lowe's gift card to give away to one of you so that you can accomplish a DIY mission, too.
The current mission I have been supplied with is actually for June and July and reads:
Make your outside space more appealing, more fun and more memorable. Give your backyard a little lift that will keep your loved ones laughing and smiling all summer long.
I've been supplied with a Lowe's gift card value of $300 for the project. Sounds easy enough right? I'll tell you what, though… I am at a loss.
We have a cute little back yard that I quite enjoy, but I have no idea what to get to make it more fun. Should I get something for the kids, so that we can spend more time playing…
or something for me, so we can all spend more time resting…
or mulch for my husband? What can I say, he likes mulch and it keeps the garden nice for all of us.
I don't know. I'm gonna think about it for awhile and let you know what I come up with in July.
In the meantime, why don't you go ahead and enter to win a $100 Lowe's gift card and get started on your own DIY Mission Possible? Just follow the instructions in the widget below and good luck!
Disclosure: As a Lowe's Creators and Influencers Network Member, I received a gift card to accomplish my challenge and a gift card is being provided to the winner of the giveaway. All statements and opinions are  my own.