Somehow the forces of the internet connected me with the good people at LeapFrog (purveyors of educational fun) and on occasion I am given the opportunity not just to try out their products free of charge, but to delve into the entire creative process that goes into the development of their products.
When LeapFrog sent us a  complimentary LeapPad2 and a Mr. Pencil and the Lost Colors of Doodbleburg Ultra eBook, my 4year-old didn't need any knowledge of all the care, research, testing, and effort that have gone into the creation of the eBook or device that she enthusiastically played with in order to enjoy it. The basic plotline of Mr. Pencil and the Lost Colors of Doodleburg is that Dr. Dull steals the colors of Doodleburg. It's up to Mr. Pencil, Dot, and Dash to save the day.
I as a parent have to say that I appreciate LeapFrog products even more when I get the details of how they are created. I had the pleasure of being part of a teleconference with the creators/developers of the Mr. Pencil and the Lost Colors of Doodleburg Ultra eBook. I learned all sorts of things having to do with the importance of writing for children and the effects it has on children's brains, self-esteem, and achievement. This kind of research and developmental knowledge is something I've come to expect of LeapFrog products, but what I was truly impressed by was the philosophy behind the eBook being…
I wholeheartedly stand behind that belief. Yes, yes, and yes!!! I'd venture to say that imagination and creativity are essential if you want to change the world for the better!
You can learn more about LeapFrog Ultra eBooks by watching the following video.
The Giveaway
I am thrilled to be able to offer 1 lucky reader of this blog…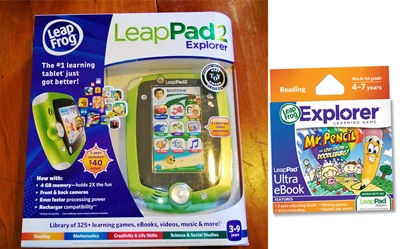 1 LeapPad2 (MSRP $99.99)
1 Mr. Pencil and the Lost Colors of Doodleburg Ultra eBook (MSRP $19.99)
To enter for a chance to win, please follow the instructions in the widget below. Good luck and remember to use your imagination and creativity!
Disclosure: I received a complimentary LeapPad2 and Mr. Pencil Ultra eBook. All statements and opinions are my own. Prizing courtesy of LeapFrog.