You may be aware that the DreamWorks film, The Croods, opens March 22. I'm sure many parents and grandparents will be taking the kids in their family to enjoy this film.
Watching films with our kids has become a great source of family fun. Did you know that you can extend the family fun surrounding the film by visiting a FREE Lowe's Build and Grow clinic? On Saturday, March 23 and Saturday, April 13, Lowe's will be hosting special clinics featuring The Croods. Children will learn basic home improvement skills and build confidence while creating a free, wooden project they can take home. Each participant will also receive a free apron, goggles and a certification of merit upon completion of their project. Recommended for ages 2-5. Build and Grow kid's clinic spaces often fill quickly, register early by visiting www.lowes.com/BuildandGrow.
To help celebrate the release of The Croods and the special Lowe's Build and Grow clinics featuring The Croods, I am excited to be hosting a giveaway.
The Giveaway
One lucky reader of this blog will receive:
The Croods Lowe's Build & Grow Kit
$10 Lowe's Gift Card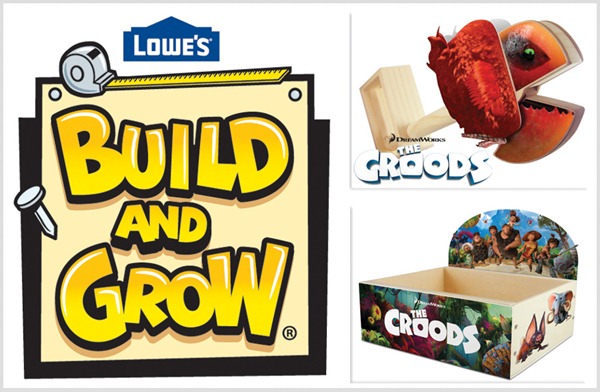 To enter for your chance to win, please follow the instructions in the widget. Good luck and build on!
To learn more about The Croods:
Visit the official website, "Like" The Croods on Facebook , Follow @DWAnimation on Twitter #TheCroods ,Re-pin great DIY tutorials, printables & more from The Croods on Pinterest!
Disclosure: I will be receiving the same items featured in the giveaway. All statements and opinions are my own.