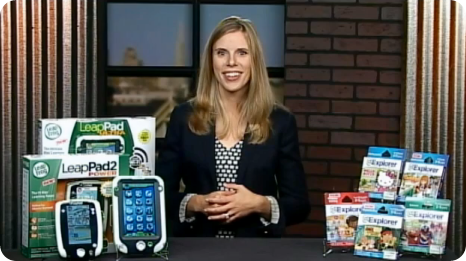 I was given the opportunity to ask child development and learning expert Dr. Jody Sherman LeVos questions on how to pick the best apps and e-games for my kids and I had to say yes because I always have questions and since at this point in time money doesn't grown on trees, I want to make sure that I am making the best and wisest investments with my purchases.
One of my favorite brand partnerships via this blog is with LeapFrog. We are huge fans of their products and after being able to get some behind the scenes info from them, I am beyond impressed by everything that goes into creating each and every single LeapFrog product. Nothing by LeapFrog is slapped together in a hurry and thrown on the market just like that. Oh no, research, development, kid-testing, tweaking, and perfecting go into each and every item put on the market. Still as a parent, I don't have as much time as the experts at LeapFrog to research every educational toy, game, or app that I will be getting for my child, so knowing that a whole team of experts that I actually trust has put the effort in for me is very comforting.
So what did I ask the expert? I asked,
How do you navigate the sharing of a device between children of different ages?
What are the pros and cons of free apps?
How much technology is too much technology?
How do you find the best app content for your children?
I could tell you what her answers are, but why when you can just listen to her yourself in this video she and LeapFrog created just for UnknownMami.com?
Disclosure: I am a huge fan of LeapFrog products and I will be receiving a package of age appropriate LeapFrog products for having shared this information with you.