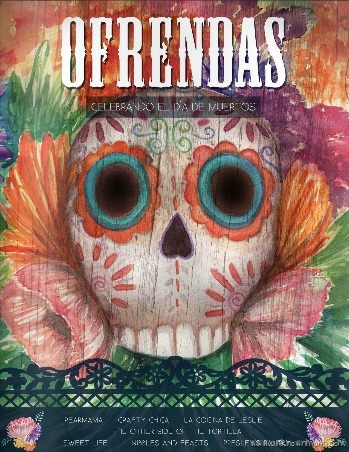 Whether you call it Day of the Dead, Día de los Muertos, or Día de Muertos, it is a JOYOUS celebration honoring the connection between the living and those who have passed to the afterlife and it happens EVERY year, November 1st through November 2nd. It is a beautiful holiday in so many ways and some of that beauty takes the form of foods and crafts.
I am sooo excited to share with you an absolutely GORGEOUS free eBook called, Ofrendas: Celebrating Day of the Dead that is a collaboration of love put together by 7 extremely talented women: Denise (Pearmama) , Ericka (Nibbles & Feasts), Kathy (Crafty Chica), Leslie (La Cocina de Leslie), Maura (The Other Side of the Tortilla), Nicole (Presley's Pantry), and Vianney (Sweet Life). Women I feel blessed to call friends.
Enjoy the book and share it far and wide. Something this beautiful should be seen by all!