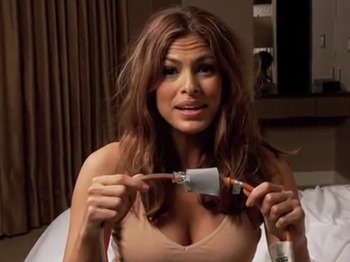 Perhaps you've noticed that Eva Mendes is one fine piece of actress, the woman is just about flawless. Another thing that you may be aware of is that the internet is full of pervs. Present company included excluded, of course. When you put those two bits of information together, you can assess that there are probably a bunch of pervs searching online for any kind of Eva Mendes sex tape. I don't find that surprising at all. What I do find surprising is that there is an actual genuine Eva Mendes sex tape online. What? And it's not even new. It's been out since 2010 and has gotten over 25 million views. How the heck did I miss it? Maybe because I never searched for "Eva Mendes sex tape" before. I mean not that I searched for it this time, in all honesty, I was just searching for sex.
No, wait! It's not like that at all. I just didn't have anything to write about so I typed in "sex" to get ideas and the next thing I knew I was watching the Eva Mendes sex tape. You see how I found it all innocently and stuff, not because I'm a perv at all. I'm a legitimate writer searching for sex online. Never mind.
Anyway, all judgment aside, it's quite possibly the best sex tape I've ever seen and I can highly recommend it. No really, even if you are not normally into online sex tapes, this might be the exception for you.
I'm really proud of Eva Mendes for representing sexy Latinas in such a dignified way in this video. I wish her much success in the sex tape industry.
Okay, are you ready for this! Press play and enjoy!
Image via Funny or Die