Getting Put Pie, my three year old, to try any new food is almost impossible. She likes to stick to the basic food groups of red roasted hummus, potatoes, rice, and bananas. She'll get pretty adventurous with her potatoes, she'll eat them as fries or mashed (don't tell her I sneak broccoli or cauliflower into them).
I need to get her to eat more foods. She can not get all of her nutrition from potatoes. I often get offered food products to review and I have to turn them down because they contain ingredients that I try to avoid. When I was offered Dan-o-nino yogurt cups for Put Pie to try, I wasn't sure I could say yes because so many yogurt products contain high-fructose corn syrup and I just do not see any benefit in introducing that into my kids' diet.
Turns out Dan-o-nino cups have no high-fructose corn syrup, no artificial colors, or flavors and they also have 2x the amount of calcium of leading kids' yogurts, Vitamin D and protein. Protein! Put Pie needs protein! Well I was sold, but getting Put Pie to try them is a whole other story.
I started telling her about them days in advance. I told her I needed her help trying something new. She's had yogurt before and sometimes she really likes it and sometimes she doesn't. Then I brought them home and showed them to her and told her we would try them the next day.
Well the next day came and I might have bribed her telling her that if she tried the Dan-o-nino cups I would let her have the alphabet magnet that came in the package, but only if she tried it.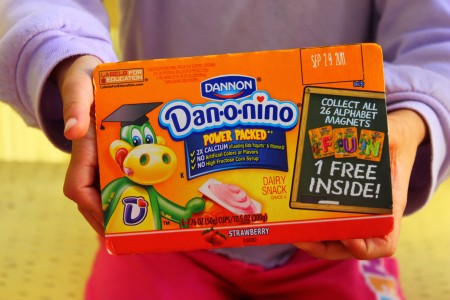 Thankfully, Put Pie is not above being bribed.
And guess what? She liked it, she really liked it! I'm thrilled to have another healthy snack that I can add to the rotation.
But that's not all folks! My buddies at Dan-o-nino and BabyCenter thought it might be nice to give one of you a $50 VISA gift card that you could perhaps use on a future grocery shopping trip.
Enter to win a $50 VISA gift card by following the instructions in the widget. Good luck!
This post is sponsored by BabyCenter in conjunction with the BabyCenter Blog Network. All prizes and compensation are provided by BabyCenter and Dan-o-nino.
Wait, before you go! If you like this post, por please share it, pin it, tweet it, call your mom and tell her about it or give it a hug. Muchos thank yous!