When Put Pie was a few months old, I started using sign language with her. I found videos at the library, looked up signs online, and looked on youtube. I picked words that we used regularly like: more, eat, milk, dog, flower, tree, bird, socks, and shoes. The very first sign that she did was "more" and I felt like I had won the lottery. I was so unbelievably excited because honestly I must have done the sign hundreds of times before she did it back and it was so gratifying to see that she was learning.
We kept up with it and I have to say that it really did make life so much easier when she was able to communicate what she wanted. I'm convinced that there was less crying because of it. It also helped because I speak to my daughters (I have two) in Spanish, but just about everyone else speaks to them in English. It helps when we can all use the same signs for words regardless of whether their father or I am communicating with them.
My second daughter Luna Pie came along and I was not as diligent about teaching her sign language. It's not that I didn't want to, it's just that having 2 kids is a lot of work, I'd forgotten some of the signs, and I didn't have the time to go back to looking at the library and online for resources. But really it was in the back of my head that I needed to start teaching her sign language because she has started to squawk really loudly at me and I knew it was because she was trying to communicate. I kid you not that as soon as I had resolved to put together some resources, I got a very generous offer from BabySignLanguage.com. They offered me a kit with their baby sign language book, flashcards, a graphic dictionary with over 600 words, and a wall chart the whole family can use.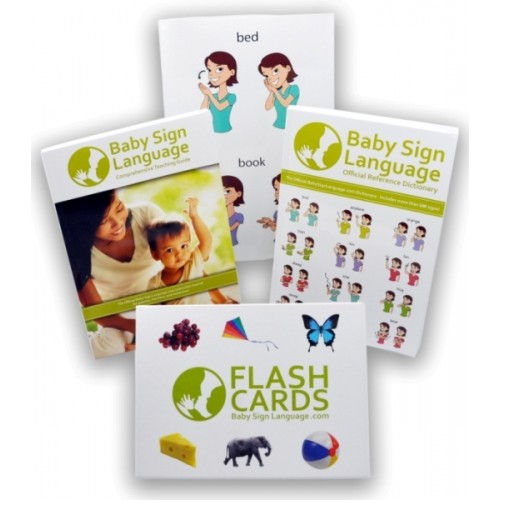 Again, I felt like I won the lottery. Why? Because I wouldn't have to go to all different kinds of sources to get help. The kit came and we started using it right away. Put Pie was excited about using sign language again: some signs we had never stopped using and others came back quickly. As per the recommendation of the kit we are focusing on 5 signs to start off with Luna Pie. We've only been doing it for about a week and already she has done the sign for more. Luna Pie can't do all 5 signs we are focusing on yet, but she smiles when she sees me do them and I can tell she is absorbing them.
I love being able to have the books at my fingertips for easy reference and my favorite part of the kit are the flashcards. I'm learning the signs along with my children and the flashcards make it easy. The only one thing I wish were included in the kit as either a wall chart or maybe at the very beginning of the Reference Dictionary is a picture guide of the alphabet. The signs for the letters are included in the dictionary, but not all together on one page and I like to use the signs when I sing the girls the alphabet song. Still it wasn't hard to learn the letters with the tools provided, I'm just prone to lazy.
Keep in mind that even if you don't buy the kit, BabySignLanguage.com provides free printable resources online. All of these tools are available to the public. I do appreciate the convenience of having the actual kit and it makes me more prone to using and learning new signs daily.
If you'd like a chance to win the Deluxe Baby Sign Language Kit (retail value: $74.80), just follow the instructions on the widget below.
The Giveaway:
I received the Deluxe Baby Sign Language Kit to facilitate this review and another kit was provided for the giveaway. No other compensation was received. All statements and opinions are mine.
Wait, before you go! If you like this post, por please share it, pin it, tweet it, call your mom and tell her about it or give it a hug. Muchos thank yous!