Reporting on my adjustment to my new job at Mamás Latinas.
It turns out I can write 6 posts a day, who knew? I can also work full-time while hacking up my lungs.
I learned that you should never work on the sofa even if you are really sick because you will just end up making your body ache and you'll feel like crying when you try to fall asleep.
I'm enjoying the challenge and feel like I am growing a lot.
I am doing my best to stick to my authentic voice and express my opinions without tearing others down.
I am laughing off comments that are mean and trying to rip me a new one because well, they don't really know me and if they don't agree and want to be rude that's okay because they are helping me pay my bills, they can rant at me all they want and I hope they keep reading because traffic is traffic and I can cash their rants at the bank as soon as they get turned into my paycheck.
I learned that I still love to blog and that it helps to have a place that is all my own.
I like the people I am working with and even though I work from home, it's so nice to interact with them throughout the day.
I learned to be showered and ready to go because you never know when there will be a Google Hangout meeting headed your way.
I learned that I'm super-proud of myself for taking a risk.
Here are a few of the things I wrote at Mamás Latinas this week:
Stayed tuned for next week when my life starts to resemble an episode of Sex in the City.
And now your Friday Fortune Cookie
(don't forget to add "in bed" at the end, if you are so inclined):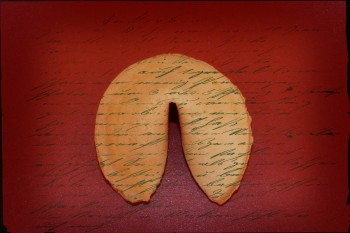 Be yourself.

Hosted by Mrs. 4444
Wait, before you go! If you like this post, por please share it, pin it, tweet it, call your mom and tell her about it or give it a hug. Muchos thank yous!