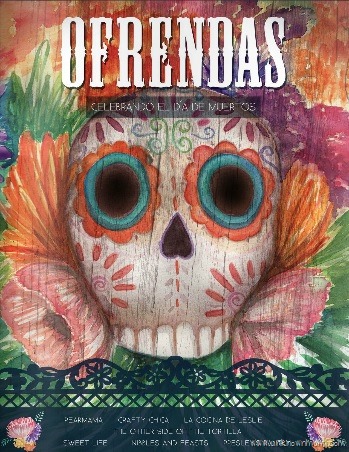 Whether you call it Day of the Dead, Día de los Muertos, or Día de Muertos, it is a JOYOUS celebration honoring the connection between the living and those who have passed to the afterlife and it happens EVERY year, November 1st through November 2nd. It is a beautiful holiday in so many ways and some of that beauty takes the form of foods and crafts.
I am sooo excited to share with you an absolutely GORGEOUS free eBook called, Ofrendas: Celebrating Day of the Dead that is a collaboration of love put together by 7 extremely talented women: Denise (Pearmama) , Ericka (Nibbles & Feasts), Kathy (Crafty Chica), Leslie (La Cocina de Leslie), Maura (The Other Side of the Tortilla), Nicole (Presley's Pantry), and Vianney (Sweet Life). Women I feel blessed to call friends.
Enjoy the book and share it far and wide. Something this beautiful should be seen by all!
Wait, before you go! If you like this post, por please share it, pin it, tweet it, call your mom and tell her about it or give it a hug. Muchos thank yous!