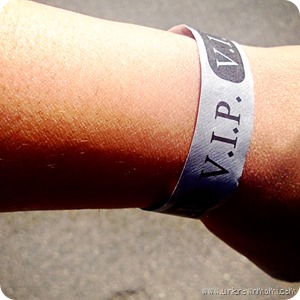 Last Saturday, I was a guest at the iFabbo conference. I didn't get to stay long, but I did enjoy the time I spent there. So while I'm there waiting in line a very nice gentleman approached me with a VIP wristband that was meant to get me some free adult beverages later. Can you believe he didn't card me? Sigh, those days are gone. I put on the VIP wristband and wore it proudly announcing to anyone that looked at my wrist that I am indeed a "very important person."
Later that same day, we went to our friends' wedding. By "we" I mean my kidders, husband, and myself. I opted to keep the wristband on because why should I deprive the wedding guests of knowing how important I am. Also, it wasn't white so it wouldn't detract from what the bride was wearing. My eldest, Put Pie, took a look at the wristband and we had the following conversation…
Put Pie: Mami, let me see. What is that?
Unknown Mami: Oh, it's a VIP wristband that I got at the conference I went to today.
Put Pie: VIP? What is VIP?
Unknown Mami: It stands for very important person.
Put Pie: (looking very confused) But Mami, you're not that important.
Sigh…I guess it's all about context. It might have hurt my feelings, but what does that kid know? She doesn't even read my blog.
Apparently, our eldest vehicle doesn't think my husband and I are very important either because it keeps breaking down on us. $1,000 worth of repairs later, wish us luck getting at least $1,000 worth of use out of it before we have to replace it.
And now your Friday Fortune Cookie
(don't forget to add "in bed" at the end, if you are so inclined):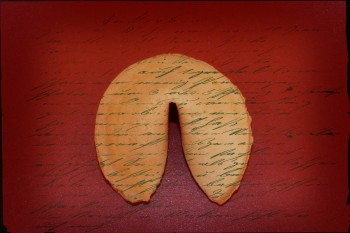 You are so much more important than you think you are.

Hosted by Mrs. 4444
Wait, before you go! If you like this post, por please share it, pin it, tweet it, call your mom and tell her about it or give it a hug. Muchos thank yous!