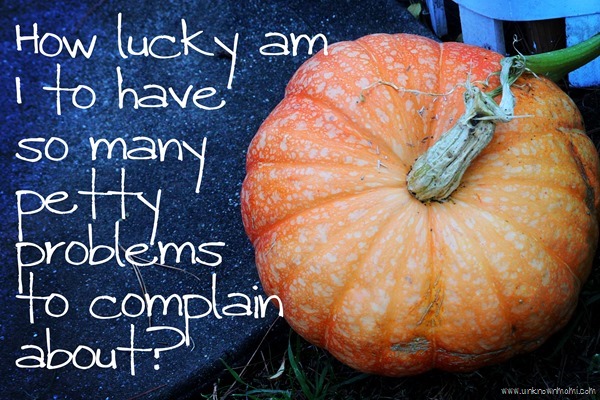 It's that time of the year when we take time to be thankful for all that we have. I know that, but what I'm going to do is complain instead. Sure it might not seem becoming to list my problems this time of year, but it's actually the perfect time to do so because my problems are what you would call first world problems, they are "problems" of privilege and when I take the time to remember that, I realize how truly blessed I am.
So here are the things I have to complain about…
My happy, healthy kids get up way too early even on the weekends and don't let me sleep in because they like my company so much.

My husband cooks ALL the time and he NEVER remembers to wipe the stove down after making us delicious meals. It drives me bonkers.

I have so many clothes that trying to get my drawers to shut is like trying to get an overstuffed suitcase closed.

My kids have an abundance of toys that they leave laying around all the time, so I constantly have to threaten to throw away anything that is left on the ground.

I have to start work at a job I love at 6:00 a.m. in order to finish in time to pick up my kids from school. Did I mention I work from home?

When we're streaming videos on our TV, it really slows down the internet connection for my laptop and irritates me to no end.

I have two electronic tablets and I can never decide which one to take with me. Should I take the smaller one, which is easier to travel with or the larger one that works more like a computer? It never fails that I'll wish I had brought whichever one I didn't bring.

There are two apps that I really want that aren't available for my cellphone and I can't believe I've had to wait so long to get them.

Every year when

Britax comes out with new car seats

, they send my girls some. From the time I find out that the car seats are coming until the time they actually get to us, time slows to a crawl. It feels like forever (even though it's really only a few days).

Sometimes my husband leaves the house and forgets to kiss me goodbye. What am I chopped liver? Yes, he regularly brings me flowers and is thoughtful in every other way, but how could he possibly ever be in such a rush that he forgets to give me a kiss? Am I not the center of his universe?
Do you see what I mean? This year has been so unbelievably good to me and my family that the stuff I complain about is petty and embarrassing in the grand scheme of things and you know what? That's just how I like it.
I hope that all of your problems are like mine and if they are not, if they are actual problems, then may you soon find a solution to each and every one of them.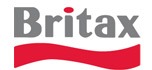 Disclosure: As a Britax Latina Blogger/Advisory Board Member (and in partnership with Mami Innovative Media), this post is part of a sponsored outreach. All opinions expressed are my own.
Wait, before you go! If you like this post, por please share it, pin it, tweet it, call your mom and tell her about it or give it a hug. Muchos thank yous!